I saw this bookish meme popping up all along the feed, but I first saw it last month on Bookstooge's Reviews on the Road. It looks like a lot of fun, so this month I decided to join. #6degrees is hosted by Books are my Favorite and Best and it is based on the principle that any two things can be linked by a maximum of six degrees of separation.
It's only the first time I join and already I am going rogue. I had a beautiful and very full-circle kind of closure after 5 degrees, so I will end with that.
It all starts with Rodham, the alternative history by Curtis Sittenfeld of Hillary Clinton. I haven't read the book myself, but I have seen it talked about quite a lot. While I like fake history novels, or books about fake bands for example, I found the premise of Rodham slightly strange, considering it deals with real people. However, this is the start for today's job at letting my mind wander to other books. I first started thinking – this is a what if? kind of story, but what if that would no longer be enough and you would really want to change the past? That brought me to…
11/22/63. Stephen King is a bit hit or miss for me. I know he is not known for his strong handling of book-endings, but Under the Dome was one of the most frustrating reads I have ever read (please don't get me started on the that topic!). 11/22/63 however I enjoyed a lot (not the ending per se, but the entire atmosphere and the fight against history. One of the characters uses the time travel for one rather peculiar reason – in order to buy cheap meat for his burger restaurant. This got me thinking of another story with an, uhmm, unconventional meat supply…
Sweeney Todd, or The Demon Barber of Fleet Street. I actually saw a really great production of Sweeney Todd a couple of years ago. It was in translation – I wasn't sure at first whether I would like it, but it was done in a great way and I thoroughly enjoyed it. There were technical difficulties so the first time I only saw the first act, but we got rebooked to another night and saw the full performance. Sweeney Todd is of course a character you will be able to find in the London Dungeon, where you will also find…
Dr. Crippen, who murdered his wife (got rid of her head) and then tried to flee to America with his mistress dressed as a boy. I was unfamiliar with the story until I read Crippen by John Boyne. It was a great story of a trans-Atlantic chase and another example of how Boyne is able to change genres between each and everyone book he's written. He's very famous for The Boy in the Striped Pajamas, but his other books are most certainly worth checking out! Either way, Dr. Crippen is remembered today mostly because of the sensationalist press coverage at the time. Another crime that one has seemingly never tired of …
Jack the Ripper of course! In Angel of the Crows, Katherine Addison re-creates the famous murder in a fantasy setting, with Sherlock Holmes as an Angel investigating the murders. And this is only one of many iterations of the story that have been published in popular literature over the years. One thing that it made me realize was how little we actually know of the victims (people always say, ah but they were prostitutes, as if somehow it would be okay to kill prostitutes) when we can't stop speculating about the murderer. But luckily I recently bought…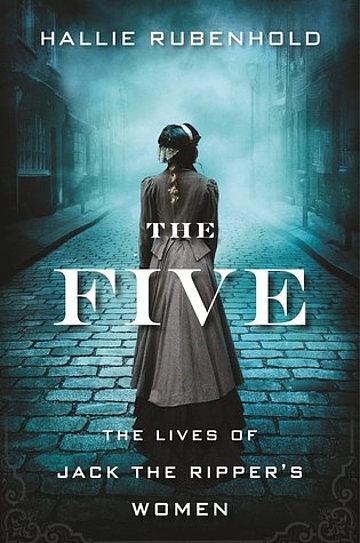 The Five by Hallie Rubenfold. It covers the untold story of the lives of the women murdered by Jack the Ripper, as well as general lower class Victorian London. I am looking forward a lot to reading this, it came heavily recommended from a lot of people and it sounds very interesting. I wanted to end the #6degrees here, because while this post has been darker (and with a lot more murder) than anticipated it started with the fictional life of a very well known, important woman, and it ends with the non-fictional account of five unknown 'unimportant' women, whose deaths have been described over and over in fiction and non-fiction alike but whose lives have not received the same kind of attention.
And that's how I think we sort of went full circle on this one.
---
Have you read any of these books? Is this #6degrees to random? Should I adhere to the actual 6 degrees? Please let me know in the comments!