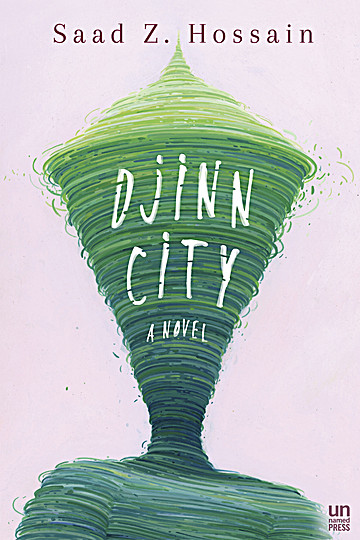 The Gurkha and the Lord of Tuesday (find the review here) was my first book this year and it was such a nice surprise. After I finished it, I wanted to get Djinn City, since it was also set in the same world with the Djinn, although a millennium earlier. It was quest to get the book. I first when to my local bookstore to let them order it for me (I was sure it would not happen to be lying around somewhere in the bookstores in my city). They ordered for me, but when I went back and asked after it three weeks later, the order had been cancelled by the supplier. They even suggested I'd buy online from the giant booksellers.

Next, I went to London – and I hoped I could buy it there. The Forbidden Planet has a great science fiction and fantasy book store and they sell a lot of books that I had previously only seen online. But even they didn't have it. So, I ended up buying an ebook online, but I tried, I really did to find it somewhere in a brick book store.

Either way, my anticipation was very high for Djinn City at this point. Still, it took me a few months to get to it (corona and all that) and when I started at last, the expectations were very, very high and it took me quite a while to get into the story.

It's the story of Indelbed and his family as they navigate around a Djinn conflict. Indelbed is a 10yo kid from an impoverished brand of a major clan, and he struggles daily with the fact his mother died giving birth to him (they called this Death by Indelbed). When a minor hunt – some kind of Djinn ritual of passage – is organized on Indelbed's head, he and is family will be drawn into an entire different world with Djinn, distortion fields and a war which has been ongoing for 20.000 years…

This was a strange read. I cannot say it in another way. More than the Gurkha and the Lord of Tuesday, I would classify this as fantasy, but it is probably unlike anything you've already read. Not only are Djinn a type of supernatural creatures which have been less massively utilized in fiction compared to certain other types, there are also a couple of plot twists that I didn't see coming. There are many different aspects to the story, and while it is a very original mix, at times I wondered whether it was not trying to do too much at the same time.

It took me a while to get into the story. There were certainly times when I could really see the same wittiness that made The Gurkha… so much fun. But overall, I felt this was the work that let up to and set up the later one.

While this was certainly a very entertaining read in the end, I am not entirely sure who to recommend this to. If you like non-standard fantasy novels in non-standard settings (Dhaka, Bangladesh) with a little raw edge, this might be perfect for you. Else, you might want to start with The Ghurka and the Lord of Tuesday.
Djinn City – Saad Z. Hossain