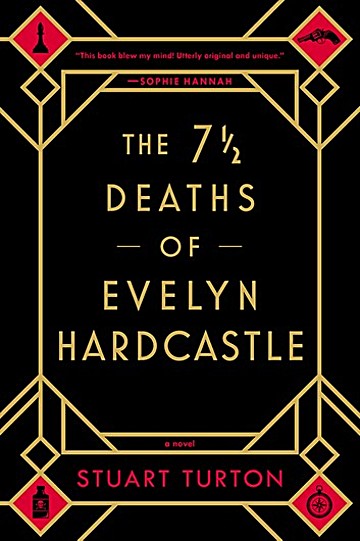 When Evelyn Hardcastle started to be the talk of my online book club, I was feeling guilty. It received multiple 5 star rating, and it had been unread on my shelves for the last two years even though I was intrigued a lot by the 7.5 deaths in the title.

But I totally get the hype now. This was a book that sucked me in almost from the start. A man, Sebastian Bell wakes up in the forest with only the name Anna on his mind. He knows about as much as the reader at that point, for he doesn't remember who he is or where. It becomes clear very early on that strange things are happening.

From the cover I knew there was going to be some Groundhog Day-thing going on. But I thought of it more like Franck Thilliez' thriller L'anneau de Moebius which now that I looked it up, apparently was never translated into English. But it also has a main character stuck in the same loop receiving hints from his slightly older self (and he ends up being the one leaving the hints). I personally did not think of it as time travel, but majority ruled in the book club and here we are.

I hate to admit it but the awesomeness of the beginning did not fully translated to the rest of the story. Near the middle there was a little slump and I had some trouble keeping track of everyone's whereabouts. I like to do the solving in the books myself, but was at a loss here for a long period of time, as I was crossing out the possible suspects in my head as they were dropping dead and/or otherwise no longer suspicious. I was not however fully satisfied with the resolution, both of what was happening and the ending.

But a very entertaining read nevertheless. Most certainly recommended!
Thanks to the publisher and Netgalley for providing me with a free electronic copy of this book in exchange for an honest review!
The 7.5 Deaths of Evelyn Hardcastle – Stuart Turton