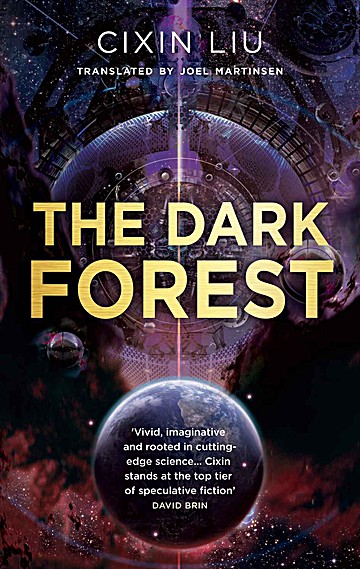 When I read The Three Body Problem some time ago, I was engrossed in the story and was heavily looking forward to The Dark Forest. I really wanted to finish it in 2017* but there were moments where I was not so sure about that.

*I managed to finish it December 31!
I would not classify The Dark Forest as an easy, or accessible or most of the time even a fun read, but it definitely was a good read. It's science fiction with the emphasis on the science part, be this astrophysics or social sciences as The Dark Forests tries to unravel humanity's response to the incoming threat of the Trisolaris fleet coming their way.

What I really liked is the fact that it affects everyone, even though they know Trisolaris won't reach them in their life-time, or even their children's children's lifetime. It is a dark future indeed, but you can't help but agree with them. There was one little piece that I was a bit disappointed with, as everyone with even the slightest knowledge of world-literature should have seen that coming lightyears away, but for the rest I thought it was a very original novel. Add to that the Chinese worldview that Liu Cixin added, one we don't often encounter in English literature, and it feels extra special. At times however, I felt that I was missing some cultural context although I think the translator did a great job in trying to bridge that gap.
The Dark Forest (Remembrance of Earth's Past #2) – Cixin Liu